Biography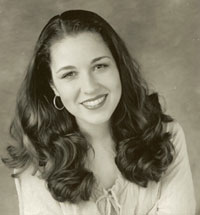 Kimberly Stinson Serrano, Founder/Director
Kimberly Stinson Serrano brings over twenty-five years of movement experience to Oculus Danceworks. Ms. Stinson Serrano holds a MA in Dance Education from Stanford University and is a teacher, choreographer, performer, dance consultant, and lecturer.
Since moving to the San Francisco Bay Area in 1996, Ms. Stinson Serrano has provided choreography for theatre and dance events presented by well-known groups such as American Musical Theatre of San José, CAFE Theatre of San Francisco, Opera Bravura, Pacific Ballet, Peninsula Youth Theatre, Portola Valley Theatre Conservatory, Stanford University, and West Bay Opera, among others. Ms. Stinson Serrano has also supplied consultation for software projects with Lucas Learning and The Cantor Center for Visual Arts. She has accepted invitations to lecture on dance issues at the Mid-State Theatre Conference, Stanford University, and UC Santa Cruz.
Kimberly Stinson Serrano's performance career has taken her across the US and to Europe. She appeared on film with alternative artist John Wesley Harding (MTV premiere video), on stage with the Isadora Duncan-style dance company Women at the Well, with High Release modern dance company, and as part of many other dance and theatre organizations.
Ms. Stinson Serrano specializes in intensive private sessions with actors, dancers, and athletes seeking to improve their performance quality. She also offers group movement classes for adults and children. Her classes are known for engaging students' creativity while fine-tuning basic skills. Her innovative teaching style and knowledge of diverse dance forms (ballet, contemporary, jazz, musical theatre, and tap) earned her a position as an ARTPATH artist-in-residence—a post where she was able to reach hundreds of San Jose-area school children through weekly dance sessions. Kimberly enjoys helping students of all levels unlock their movement potential and feel the joy of moving.
Ms. Stinson Serrano was recently honored with a three-year seat on the San Francisco Bay Area's Isadora Duncan Dance Awards Committee. She is founder/director of Oculus Danceworks and on the board of directors for the Carole Stinson Literacy Foundation.
"To dance means: to step out on the great stages of the world...
to flash and soar...
to ride violins and trumpets...
to feel the magic work..."
Agnes de Mille, To a Young Dancer